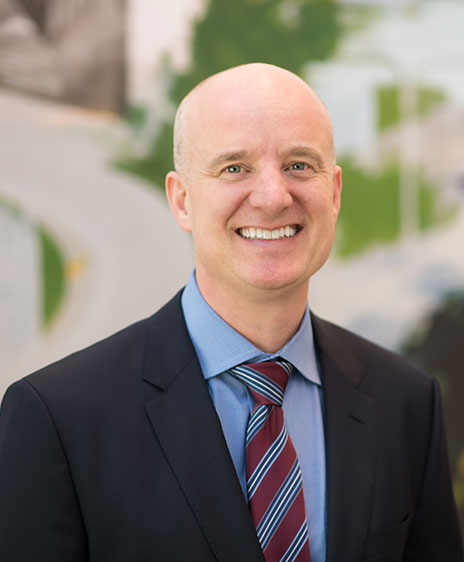 Eric is a civil litigator and trial lawyer.  He has taken over 75 cases to jury trials, along with hundreds of court trials, motion hearings and other court appearances.  Prior to joining GSW, he worked in the Multnomah County District Attorney's Office and for the in-house law offices of Farmers Insurance, where he learned to effectively resolve cases in the best interest of his clients.
Eric grew up in a small town in the Black Hills of South Dakota, where he got his down-to-earth sensibility.  After earning a degree in Government from Augustana College, he moved to Washington, DC, where he helped launch and implement AmeriCorps, which involved traveling around the country to provide oversight and assistance to local AmeriCorps programs.  When his travels brought him to the Pacific Northwest, he knew immediately that he wanted to make Portland his home. Eric earned his Juris Doctor degree from Lewis & Clark Law School and has been admitted to practice law in Oregon since 1999.
Having a strong commitment to public service, Eric has held numerous leadership positions with the Multnomah Bar Association (MBA), including President of the Young Lawyer Section and Chair of the Pro Bono Pledge Task Force. He has received the MBA's Award of Merit, as well as the Pro Bono Award. 
Eric's highest priority is being a father.  When not at the office, you are likely to find Eric with his son hiking, biking, skiing, bowling or watching sports with his son.
Practice Areas
Insurance and General Casualty Defense
First Party Insurance Defense and Coverage